Samon-kun wa Summoner is a manga series written and illustrated by Shun Numa. It has serialized in Weekly Shonen Jump since the 43rd issue of 2015, on September 21st, and is still ongoing.
Samon, a summoner, is constantly targeted by assassins from the Demon World, who are pissed at him for summoning Demons too much.






English Versions
Edit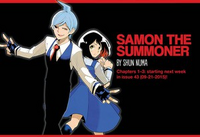 As part of its "Jump Start" initiative, Viz Media is publishing the first three chapters of Samon-kun wa Summoner in the English version of Shonen Jump.[1]
References
Edit
Ad blocker interference detected!
Wikia is a free-to-use site that makes money from advertising. We have a modified experience for viewers using ad blockers

Wikia is not accessible if you've made further modifications. Remove the custom ad blocker rule(s) and the page will load as expected.